Mindless Spending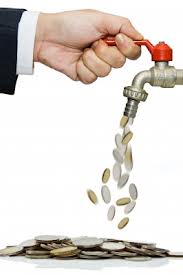 Have you ever driven home, pulled into the driveway, and realized that you don't remember the drive home at all?! I remember one time I was driving and I suddenly came off of auto-pilot and had NO IDEA where I was. It literally took me a minute or more to figure out where I was on my journey.
Often times we spend the same way. Let me ask you this question…"Have you ever left the house with cash in your wallet, looked in it as some point, and realized you had NO IDEA where the $20 went, or the $100 and had to consciously think about it, only to realize you can't account for it all? That's what I am referring to when I talk about Mindless Spending.
So, why should you care you ask? Well, you work hard for your money (I'm assuming at least) 🙂 and you probably care where it goes, so I am going to suggest that knowing where the ten-bucks, 20-bucks or 100-bucks goes might matter to you. Mostly because when you know where it is going, you can make choices. Choices about whether where it went was important to you or not important to you. At which point you may make a change in your habits. All of this, of course, is done for a reason, and that is to lead you to a more fulfilling life financially.
Let's look at an example…
Every day you stop for a coffee on your way to work. Throughout the day you go for a coffee break and add a treat. At the end of the day, you go through the drive-through for a drink on the way home. You've spent about $5 that day. You do this every work day and the occasional weekend day. That amounts to over $100 per month. Just gone. Now maybe your coffee/treat breaks are extremely important to you. Meaning there is nothing else you would like to buy with that $100. In that case, keep doing it. But maybe you have been stressing because you want to go out to Dinner more with your partner, or take the kids to the movies more often. Because you now know you spend $100 a month on this non-necessity, you re-evaluate. You say, "I'm going to make my own coffee, and skip my afternoon snack. I'm going to take that 100 bucks and have a wonderful Dinner out every pay period, or take my kids camping, or…. (you complete the sentence). And viola! Just like that, one small change, and you have added value to your life.
That's what I am talking about when I say "Mindless Spending". So I encourage you to be Mindful of your Spending Habits and ask yourself, "Does this add to my quality of life? Is there somewhere better I  would like to be investing this money?"
5 Quick Tips to Mindfully Spend:
Review your Bank Statement or online banking and add up what you have spent on each category this month
Withdraw cash, put it in an envelope or a special part of your wallet, ask for receipts, and add up those little purchases
Set aside an amount for miscellaneous spending and see if you can stay within the amount
Pay yourself first – take an amount out of your paycheque each pay BEFORE you start spending it, and set it aside for something special
Track what you have spent for the month and see how close you come to your income for that month. Anything you cannot account for is spent mindlessly. Make a commitment to "lose less money" next month.
Remember, it takes at least 21 days to change a habit. Commit one month to the above and let us know how you are doing by commenting on this post!