What is the best way to track expenses?
If you follow my blog, or any of my other social media activities, you will definitely pick up on a common theme … I am a huge advocate on tracking expenses.
Why?
Because I believe, with my whole heart (any bank account) that this is the missing piece with most of us, when it comes to having the best financial situation we can have!
Tracking where your money goes gives you the information you need to make the best decisions possible. Decision like:
when do I replace my old vehicle with a new one?
what strategy works best to cut back on our grocery spending?
when can I afford to move out on my own?
how will I survive this pending layoff?
when can I retire?
and so much more….
It doesn't have to be a complicated process. There are way to simplify it. At the end of the day, you draw upon your strengths. You don't want to create a system that is entirely overwhelming because you won't adhere to it.
Before we look at the ways you can track, let's talk about what you want to track and why you want to track.
What I want to track…
You could track every single thing but that can become tedious and some expenses don't need to be tracked as diligently. For example, you don't need to record your rent or mortgage payment, or your utility amounts (although I do recommend keeping an eye on your utilities so you know if they are increasing and ALWAYS calling the provider to ask if there is a better rate or plan for you). You don't need to track any fixed expenses – the ones that are the same every month. Typically you want to track your day to living expenses – gas, groceries and miscellaneous spending.
Why I want to track…
Ideally you want to be able to write down what you spent this month and then compare it to next month, and the next, and so on.  This will give you an idea of what you currently spend on each expense and a historical look of whether or not it is increasing or decreasing. And because some expenses don't happen every month, you will want to track for at least a year and divide those irregular expenses by 12 months to get a monthly average. Don't panic, once you see how powerful this exercise is you will want to do it all the time! Maybe, possibly, most definitely 😉
Ok,now that we have figured out the what and why, let's look at 'How'. There are four ways you can track your spending:
Pen & Paper
Spreadsheet
Computer / Accounting Program
App for your smartphone
(1) Pen & Paper
This is the old-fashioned tried & true method. Simply keep your receipts and total them up at the end of the month. Sounds simple enough right? Well, there are some tricks to make it work well.
First of all, you need to keep the receipts somewhat organized or you will end up with a mess of papers at the end of the month that need sorting. And if, by chance, the merchant is not on the receipt anywhere you will go crazy trying to remember what you bought! Trust me, I speak from experience.
So, every day, take the receipts out of you purse, or pocket, or car and put them in one place. You can use envelopes aptly labeled (ie. groceries, gas, other food, entertainment, miscellaneous) <– If your 'Miscellaneous envelope gets too big, you can further break out the expenses (ie. pets, drug store, coffee), you could use an accordion file folder, or anything else that serves the purpose.
Total up each category and write it down 'somewhere'. Somewhere might be in a notepad, on a budget sheet or a ledger book, as an example.
(2) Spreadsheet
Create a spreadsheet to enter in each month's expenses, with a column for each month and a total at the end of the year. Add one more column to take the yearly amount and divide it by 12, giving you an average monthly amount.
Depending upon your skill level, you can create goals, graphs and charts to make this a little more exciting and meaningful.
Download your free Annual Expense Tracking Form here.
(3) Computer / Accounting Program
If you have an accounting mind, you might like to try one of the Accounting Programs available such as Simply Accounting, Quickbooks or MYOB. Arguably these are a bit overkill for personal tracking and geared more towards self-employed individuals and businesses. But hey, if it's your thing, then go for it!
(4) Download an Expense Tracking App on your smartphone
There are many tracking apps you can use such as iSpending, Easy Spending, Pocket Expense and Mint. These are only a select few as there are literally hundreds of them. Choosing the right one for you can be challenging, but you can narrow it down by deciding which features are best suited to your needs.
With most of them, you will enter in each of your receipts. I tried a few of them and found that it took me way too long, which is why I settled on Mint. Mint allows me to directly link to my bank and credit accounts so my transactions are downloaded instantly. I then only need to go in weekly to ensure everything was posted to the correct expense and make some adjustments. And it is available on the PC as well, so I can choose to use my phone when on the go and my computer when stationed in one place.
Some apps give you the ability to create budgets, see trends, create graphs and download your transactions to an external program. Do a bit of research and chose the one you feel best suits your needs.
So, there you have it, four ways that you can start tracking your expenses today. Keep an eye on this blog site for more examples of how to use your tracked data to save you money.
As always, wishing you all Happy, Healthy Finances!


Mary Ann Marriott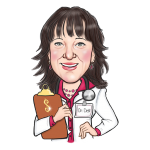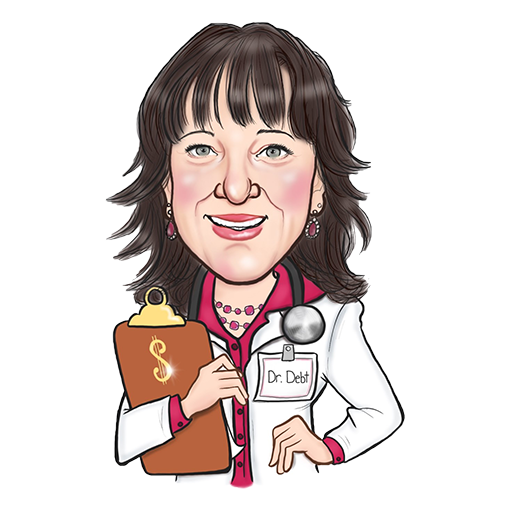 aka Dr Debt