5 Ways to Boost Your Financial Wellness This Year
I recently received an email from a friend and  fellow financial wellness expert on how to boost your financial wellness and lower your money stress.
I loved these 5 tips so I asked her if I could share them on my weekly radio show – Money Matters with Mary Ann (every Thursday night 7-8PM AST on 88.7 COVE FM – yes, shameless plug ;).  Of course, she said yes. Because she is awesome!! Thank you April Stroink <– also shameless plug for April and link to her info.
Here are her 5 tips and my thoughts on each:
5 ways to boost your financial wellness and lower your Money stress:
Reframe your financial situation – Financial stress is deep rooted in our money mindset and the money story we tell ourselves. A financial crisis is not a form of personal failure. Poop 💩 happens to good people all the time. The situation is not your fault, many others are going through a similar crisis themselves. Working though it demonstrates your strength.
Yes! I love this one as a starting point. Because we are way too hard on ourselves around our finances. As I often share with my clients, tell me where, in the Book of Life, it says that you have to get it right the first time. It doesn't! We don't get it right. We don't get our relationships right the first time, we don't get our health right the first time, we don't get our careers right the first time and we most certainly, do not get our finances right the first time. So, meet yourself where you are move from that point. 
Take a Break – Instead of reworking your finances over and over again, step away from the situation for a while and return to it later when you are more relaxed and have a fresh perspective. Ruminating on the problem will not help you solve it. Step away, go for a walk, read a book, watch Ted Lasso or whatever takes your mind off it for a little while.
​
The example I used for this one is playing WordChums on my phone – I play the scrabble game when I need to 'check out' for a bit and just need some down time. Sometimes I get stuck. I look at the tiles and, for the life of me, I cannot come up with a word to play. So I sign off, go do other stuff, log back in later, and viola! The word is right in front of me. And it's usually a pretty good high-point word. 
It's like that! If you are overwhelmed trying to figure it out, step away, do something else, come back with a fresh perspective. Or…bring in an extra set of ears or eyes to help you find  a better way. (notice, I didn't say solution? That's because the better way may not be the best way, but it is leading towards it) 🙂 
Focus on learning – As Winston Churchill once said "don't let a good crisis go to waste" learn from this experience. A financial crisis may be one of the stops on your journey to financial fulfillment it may help you develop healthier financial habits down the road.
OMG I love this quite so much! "Don't let a good crisis go to waste". Going back to the first point, that statement ,all by itself, is a re-framing statements. It invites us to look at this from a different vantage point. What can you learn from this crisis? It invites you to step out of the crisis (problem thinking) and into the possibilities (solution thinking). And I absolutely love this statement, "A financial crises may be one of the stops on your journey to financial fulfilment." Yeah baby! It's just a stop. That's all. Don't stay stuck here. See it, learn what you can from it, and move on! I may be getting  a little too excited about this statement. lol
​
Make a plan – talk to people you trust who are financially savvy about helping you make a money plan. Not talking about money is one of the reasons why so many of us experience financial stress because it is still so taboo.
​
There used to be three taboo subjects that we just didn't talk about – Sex, politics and money. We talk about politics all the time now. There is more public sex talk then there has ever been. And money, well, that one still takes sits in a dark closet most of the time. The first step to getting some traction, some movement, is to admit what isn't working. Talk to someone who has some savvy in money – maybe a friend, or co-worker, or professional guidance person, financial planner etc. This goes back to the first point (again) where we are afraid to admit we are not doing it perfectly. If there is one thing I hear ALL THE TIME from my clients, it is "I wish I had talked to you sooner,  I wish I had come in sooner, I wish I had dealt with this sooner". There is no time like the present, so step out of your pride (notice I didn't say swallow it – don't do that – that leads to a whole bunch of nasty un-wellness), step out if, set it aside (you can come back to it later if you need to) and talk to someone so you can begin to uncover what you don't know and move into that solution thinking.
Set goals – we know that only way to eat an elephant is one bite at a time and so it goes with developing good financial habits. Start small by pulling out your statements and looking where your money is going. Does it align with your values? If not start here.
If you have been following me at all, then you know that I am all about the planning aspect of things. Information is power. You need to have some type of plan to get from point A to point B. As one of my favorite quotes from Alice in Wonderland so aptly put it…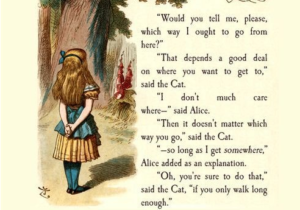 "Would you tell me, please, which way I ought to go from her?"
"That depends a good deal on where you want to get to" said the Cat. 
"I don't much care where…" said Alice.
"Then it doesn't matter which way you go," said the Cat
Where do YOU want to go? What's important to you? Follow your bliss.
That's it. That's your 5 things that you can start doing this year to make it a happy, less stressful one.
Which one is the biggest challenge for you? Start there. 🙂
Until my next post…
Wishing you all happy, healthy finances.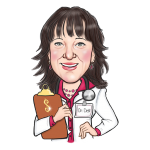 Mary Ann
aka Dr Debt
Disclaimer: this information is for general purposes only. Every situation is different. If you want to get the best advice possible, you would want to have a personal consultation to receive the advice that is most relevant in your situation. 
I am a Licensed Insolvency Trustee employed by Allan Marshall & Associates. In my spare time, you will find me here, under my alternate title, Dr Debt, sharing tips, tricks and techniques to help you have happier, healthier, finances.