Can a collection agency call my employer?
One thing most of the calls I receive have in common is that the caller has been receiving calls from collection agents.
I've heard some pretty disturbing accounts of some of the tactics used.
Let me start this post by saying that I am not throwing all collection agents or agencies under the bus. There are some great reputable ones out there. And some, sadly, do not fit that category.
We have gone to great lengths to stop bullying in our schools and in the work place, yet, I see bully tactics all too often on this play ground. 🙁
And that is why I decided to share this recently on my radio show, Money Matters with Mary Ann  and  as a  post here.
I was reading a blog post by my colleague, Rob Johnson, about collection rights and responsibilities in New Brunswick (where he resides) and decided to look up our provincial legislation (in Nova Scotia). It appears that most of the information is shared across the two provinces, but please be aware that there may be distinct rules for each province (or country) depending on where you reside and you will want to refence your own legislation for clarity.
In my research I learned a few new things! I hope you will find this information informative and useful. And feel free to pass it along to those in need.
So to begin…Collection agencies must be licensed and follow the rules set out in the Collection Agencies Act associated with their province.  In addition, creditors must follow similar rules of conduct set out in the Consumer Creditors Conduct Act. These rules include how and when you can be contacted, and in what manner. I have hyperlinked my relevant Provincial Acts. As mentioned above, you may want to search for the appropriate ones in your location.
My personal comments are in bold and italics and are just that, my personal understanding or beliefs and should not be replied upon as fact. In some cases, I referenced the rule number for ease of reference. 
Here are some of the things I was aware of: 
You are responsible for paying money you owe. (Obviously!)
If you don't pay, the business may collect their own debts OR ask a collection agency to do it for them.
Collection agencies and businesses collecting debt cannot: 
Make any contact with you by phone or otherwise until they contact you by mail first (I'm quite confident that there is an 'attempt to contact you by mail' requirement and if they can show proof that they made reasonable attempts to contact you my mail and were unable to, that they can still call) 
Threaten or intimidate you or use abusive language (I feel like this one has to be reiterated to some collection agents) 🙁 
Call between 9pm and 8am (any day but Sunday – see below)
Lie about you (directly or indirectly to your family members or to anyone that you owe money to)
Give information, or threaten to give information, to anyone that could affect your job
Contact your employer, friends, acquaintances, family or neighbours unless they have guaranteed or co-signed the loan they are trying to collect or are looking for your address, employment status or business title (some of this I was not clear on. And…this is the reason they ask for references from you for high-interest (risk) loans so they have permission to contact them. My advice, don't give that information!)
Here are some things I did not know, or did not know fully:
Businesses don't need to be licensed to collect debt, but both businesses and collection agencies must follow similar rules when they contact you to collect debt (ok, I knew the last part) 
Collection agencies and businesses collecting debt cannot:
Collect more money than you owe the business or person who hired them (I feel like this one is  a bit tricky as the amount may have accrued interest – and a lot of it – over time. I always recommend you get a statement of what you owe from the creditor AND the collection company. Make the request in writing.) 
Make collect calls to you to demand repayment (I kind of knew this but collect calls are so "in the past" that I forgot they even existed) 😉
Call so often or in such a way that you or your family feel harassed (I put this one in this category as I am aware they cannot harass you but the wording of this one leaves me wondering "What are the parameters for 'feeling harassed'?")
Call on a Sunday
Take you to court (unless the collector has taken on the debt from the company that you originally borrowed money from) (In other words, they bought the debt from that company, which does happens often)
And a few excerpts of the Consumer Creditor's conduct Act that I thought were share-worthy:
No creditor shall (I have edited the wording slightly to read a little easier, and added emphasis in some places):

continue to communicate with or collect or attempt to collect money from:

someone who has informed them that they are not the person sought by the creditor, UNLESS the creditor first takes all reasonable steps to ensure the person is, in fact, the person (again, reasonable steps may be interpreted differently in law)
someone who has notified the creditor in writing to communicate only with the borrower's legal advisor and an address for the legal advisor has been provided (that last part is important)
someone who has notified the creditor, by registered mail, that the debt is in dispute and requests the creditor take the matter to court

use any legal documents (such as summons, notice or demand, document, language) that is used in court
abuse or intimidate a borrower (or other party) to induce a person to pay money or to deliver up possession of property
contact you (unless requested)  more than 3 times in 7 days (Rule 4 (h)(iii)) 
when using an automated call system, fail to provide a contact number for you to call when leaving a message (Good luck reporting them if you don't know who they are)
give any person false or misleading information including, but not limited to, references to the police, a law firm, prison, credit history, court proceedings, fine or garnishment. ( I have actually had debtors tell me that they have been threated with going to jail for not paying. Umm, that has not existed here in Canada for a very long time)
Related post: Is there still such a thing as debtor's prison?
give information that may adversely affect the employment or employment opportunities of the borrower
contact a borrowers employer for reason other than confirming the borrower's employment status, business title or business address and then, only once UNLESS the consent is authorized in writing by the borrower (Rule 4(n)(ii)
(Failure to comply with these rules may result in a fine or imprisonment). 
Here are some rights you have…
You have the right to:
Ask collection agencies and businesses collecting debt to only contact you through a lawyer
Ask who is looking for repayment when they contact you
So, what can you do to protect yourself: 
Know your rights. Read the Acts referenced in this post or the ones(s) relevant to your place of residence.
If you feel the rules are not being abided by,

Report them to the relevant agency in your location.

Engage the services of a lawyer to create a barrier between you and the collection agent/company.
I sincerely hope that you do not find yourself on the receiving end of collection calls. But if you do, I hope this arms you with some useful knowledge to provide some peace of mind.
Until my next post…
Wishing you all happy, healthy finances.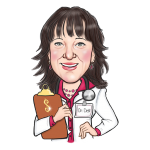 Mary Ann
aka Dr Debt
Disclaimer: this information is for general purposes only. Every situation is different. If you want to get the best advice possible, you would want to have a personal consultation to receive the advice that is most relevant in your situation.