Why an Occasional Expense Fund is more important than an Emergency Fund – Part 2 of 2
In Part 1 of this post we talked about the importance of an Occasional Expense Account and the initial set up. If you missed that post, you can find it here:  Part 1 of 2
I provided you with some worksheets to help you get started creating your occasional expense account. As an additional resource, I would like to invite you to my Facebook Group, Money Matters, for additional support and guidance on helping you have happier, healthier, finances 🙂
Ok, let's continue….
The logistics ~ How to pull this all together
I could have also called my 3-Step Simple Spending Plan the 3-Step Bank Account, because that's the part that simplifies it.
You will want to have at least three bank account.
Here's how it works:
1.     Your paycheque goes into your main account. This account is for your fixed, usually automatic, payments. You ensure there is enough money to cover everything that is coming out before next payday, plus a small buffer, just in case.  Don't forget to include your monthly bank fee, if applicable. You would also pay your online bill payments from this account.
2.     You transfer your savings into a second "Savings" account – this account is  for all of your savings – your occasional expenses, emergency fund or goals.
Variations to this second account are:
You could keep part of your savings in the main account. Which is completely dependent on having the 'spending" account to make this work properly, thereby only needing two accounts. If you are not spending out of this account, you still simplify the process.
You could set up three savings accounts instead of one – one for your occasional expenses, one for your emergency fund and one for your goals.
You could also break this down further and set up a sub-account for EACH occasional expense and EACH goal. See 'Divide & Conquer" below.

For clarity, you still have only one emergency fund. This would not be separated into different emergencies because we don't know what the emergency is going to be.
If you know what the emergency is going to be, it is not an emergency! It's a planned savings goal.
3.     Your "Spending Account"
The balance, after you transfer your savings to wherever it is going, is to transfer your 'spending allotment' to the spending account, or you simply withdraw it in cash. You can do this weekly, bi-weekly or monthly, whatever works best for you.
Want to put a little extra punch in this system?
Automate your transfers from your main account to your savings and spending accounts. Setting up automatic transfers to transfer funds from where they're deposited into your different accounts is the easiest way to manage your money properly.
Have all of your income go into your main account on payday, and set up automatic transfers to transfer the amount you need to save into your savings account, and the amount you have for spending into your spending account, each payday. This way, you are effectively leaving the money in your account for automatic and manual bill payments, allocating your savings amounts and ensuring you know exactly what you have to spend each period. Easy peasy!
This works very well with a fixed income but needs some variance with flexible and occasional income. More about that in future blogs.
Divide and conquer your spending and savings
Many people prefer to have multiple savings accounts for their various expenses or goals, and name them  accordingly, ie. "Trip" or "Auto Maintenance" savings. Your financial institution should not charge you for opening multiple savings accounts. Simply set up your automatic transfers into the various savings accounts instead of putting it all into one big savings account. You may have to transfer the money from each sub-account to your main account when needed to reduce or eliminate unnecessary fees. 
If your bank doesn't offer this, you could accomplish the same thing by tracking each savings goal on a spreadsheet (I provided the link in part 1), or use you could use an online tracking tool such as these common ones online.
The same goes for your spending money. If you'd like to divide your spending cash into different categories such as groceries, gas, or clothes, you can do that too. Be aware that multiple chequing accounts will likely cost you extra bank fees, so it's might be best to take out the cash each payday and divide it into envelopes or jars instead.
As an example…
Let's play with one occasional expense item so you can see how this works. Let's use the most common one I encounter with clients that causes grief or a reliance on credit – vehicle repairs & maintenance.
You have looked at your past records and spent about $2000 on repairs and maintained last year. This includes registration, safeties, tires, etc. (everything to do with keeping a vehicle on the road).
You decide to set $200 a month away. That way you have a bit of a buffer over last year's costs in case there is an increase.
The first month comes, you put $200 into a separate account, or envelope, marked Car Maintenance. So far so good!
| | |
| --- | --- |
| Pay period | Car Maintenance Fund |
| 1 | $200 |
| TOTAL | $200 |
Month two, the account is at $400. Nothing was needed. You are feeling optimistic.
| | |
| --- | --- |
| Pay period | Car Maintenance Fund |
| 1 | $200 |
| 2 | $200 |
| TOTAL | $400 |
Month three, you need an oil change. $200 goes in, that's $600 in the account, you pay for the oil change of $100 and you have $500 left.
| | |
| --- | --- |
| Pay period | Car Maintenance Fund |
| 1 | $200 |
| 2 | $200 |
| 3 | $200 |
| 3 | -$100 (oil change) |
| TOTAL | $500 |
Month four, five and six you can't believe your luck, there have been no issues with the vehicle. York fund soars to $1100. Woot!
| | |
| --- | --- |
| Pay period | Car Maintenance Fund |
| 1 | $200 |
| 2 | $200 |
| 3 | $200 |
| 3 | -$100 (oil change) |
| 4 | $200 |
| 5 | $200 |
| 6 | $200 |
| TOTAL | $1,100 |
Month seven…you need tires (that was an expected expense), you price them out and get an exceptional deal of $600 for all four. You have the money to pay for them in full. This feels great. You buy them and get them installed, pay the bill and are left with $700.
Let's call this "Scenario A" – your fund works out perfectly. You have planned properly and there is always enough to cover your car expenses, Life is good!
Scenario A
Pay period
Car Maintenance Fund
1
$200
2
$200
3
$200
3
-$100 (oil change)
4
$200
5
$200
6
$200
7
$200
-600 (tires)
TOTAL
$700
Let's add a little twist to the above scenario.
Scenario B –  while you are in getting your tires installed, your the mechanic tells you that you need all new brakes at a cost of $450. No worries you think, I have the money there to cover it and that's all I need right now, so I am optimistic I can replenish the account.
Scenario B
Pay period
Car Maintenance Fund
1
$200
2
$200
3
$200
3
-$100 (oil change)
4
$200
5
$200
6
$200
7
$200
-600 (tires)
-450 (brakes)
TOTAL
$250
And one final twist…
Scenario C – the mechanic tells you that you need brakes AND your struts are gone, the bill is $850. Ugh…there goes your safety net. 🙁 Oh well, it could be worse, You have part of the money to cover it, you just need to come up with $150 from your budget and watch your reserve fund carefully to ensure you are putting enough away each month overall.
Scenario B
Pay period
Car Maintenance Fund
1
$200
2
$200
3
$200
3
-$100 (oil change)
4
$200
5
$200
6
$200
7
$200
-600 (tires)
-850 (brakes/struts)
TOTAL
-$150
Now let's pretend you didn't read this blog post and you don't have an occasional expense fund for car repairs and maintenance. The options are quite different aren't they?
Option A – put it on credit and pay whatever interest rate you have, effectively increasing the cost of the repairs. No!!!!!
Option B – come up with over $1400 in one month for car repairs, likely by not paying something else, putting you in the uncomfortable position of catching up over the coming months. Double Ugh!
Aren't you glad you had an Occasional Expense Account? Yes!!
And that concludes this post on the importance of having an occasional expense account. I hope it motivates you to start yours today?
I'd love to hear your thoughts. How do you deal with occasional expenses? Is this something you feel you can do? Can't do? Are you doing it successfully or tried and it didn't work? 
Wishing you all happy, healthy finances.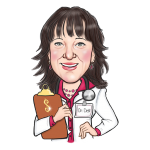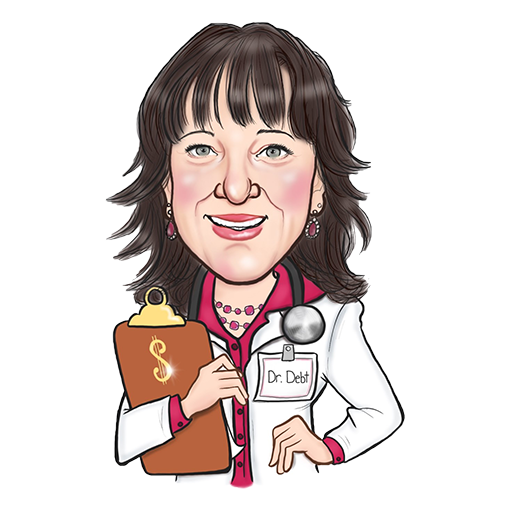 Mary Ann
aka Dr Debt
(Licensed Insolvency Trustee, Allan Marshall & Associates Inc.)