No Fee Banking – good bye PCF, hello Simplii Financial?
Goodbye PCF No-fee banking, hello who?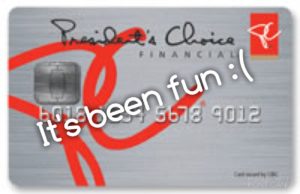 I've been a PC Financial user for many, many years. In case you haven't heard, President's Choice Financial will end its 20-year banking agreement with CIBC beginning November 1st of this year. And no one really knows yet if that is a good thing or a bad thing.
I have thoroughly enjoyed not having to pay bank fees on my main account for years. But, like many, I have been hesitant to let go of my BIG Bank account, although I did reduce my monthly fee as the account is basically only used as a transfer account to appease my husband, more about him later 😉
There is one pet-peeve I have had about my PC Account, and that is they charge for email money transfers. I find I am using that method of banking more and more these days as a way to pay people and transfer money between my accounts. And it's costly. Arguably maybe not more costly than cheques….which are becoming a thing of the past these days.
The reason for the breakup? The consensus seems to be that CIBC want's more control over the PCF services and customer base. Loblaw's (PCF's other partner) seems to be fairly quiet on the subject citing that their plan is to to focus on their two main products -The points loyalty program and PCF Mastercard. They are quoted at stating that  the PCF Bank product accounts for "only 2 per cent of Loblaw's $46.4-billion in 2016 revenue."
The PC Financial Bank Machines will be removed from stores, causing inconvenience for some, as users will have to rely on CIBC's network of machines.  Apparently new in-store machines will be installed but you will be charged a fee to use them…surprise! surprise! Fortunately with the ability to deposit cheques from your phone and withdraw funds at the cash, this could prove to be a minor inconvenience to account holders.
Look for your new debit card to arrive sometime between November 1st 2017 and April 13th, 2018, under their new brand name "Simplii Financial".
Read more at MobileSyrup.com: CIBC rebrands PC Financial to Simplii Financial following end of partnership [Update]
What about Tangerine?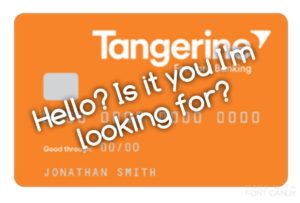 Most recently I decided to check out PC's rival no-fee bank account, Tangerine (Bank of Nova Scotia's online banking option), mainly for three reasons: (1) I heard great things about it, (2) My socially-challenged husband doesn't venture far from home unless he has to, and Bank of NS is the only local bank in our community (that's changing shortly as well, sigh!). He also likes to deal in cash, which means he withdraws money from the account for anything he needs, and I wanted to avoid additional withdraw fees. And (3) they had an offer on, deposit your first $100 and receive a $50 referral fee. Really!! No kidding!! How could I go wrong?! Myself and my referee each received $50, since then I have shared this with many others resulting on over $700 shared among us all. Gotta love FREE money! (The offer is still on by the way, check it out: FREE $50 for opening a new account- Tangerine)
The jury's still out…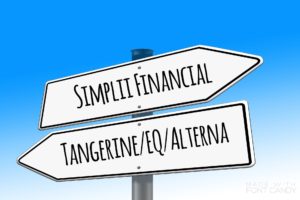 I haven't decided which one I like best. One of the main benefits of the PCF account is that I receive PC points for using it. That, sadly, is going away with this current change. One of the things I like best about Tangerine is that you can do FREE email money transfers, however, there is a 1-2 day processing period. The alternative, pay $1.00 and get an instant transfer. Still, the $1.00 fee is less than the $1.50 fee I pay at PC Financial :). With enough planning, I can rely on the free e-transfers most of the time, resulting in less fees overall. Yay! Less fees!!
(Related Post: The Cost of Convenience)
One of the challenges of switching banks is changing everything over. I am constantly making recommendations that new accounts be opened when providing financial counselling for my clients. And I know, first had, what a pain that can be. In fact, I prepared an "Opening a New Account Checklist" just for that occasion, feel free to download it for your own use: Download: Opening a New Bank Account – Checklist
(Related Post: Should I switch Bank Accounts?)
As with any decision, I decided to do my research before blindly moving forwrd…what exactly is CIBC up to with this switch? It seems the advice is similar regardless of the article you read: Wait and See! Oh my…patience is not one of my virtues. Some think CIBC will step up to the plate and offer better features in order to have a worthwhile no-fee bank account to compete with all of the others out there. Speaking of which….
More choices…
There are a couple of other players in the market. I confess, I do not know much about them, but thought I would give them a tiny spotlight here. As I learn more, I will post updates. :), or, feel free to share your insights!
EQ Bank – High interest savings, no monthly fees – details
Alterna Bank – No-fee banking, linked to Credit Union – details
More Q&A:
After combing most of the recent articles on the subject, I came across this simple Q&A style post: What's coming for PCF Customers?
I am a firm believer that when one door closes, another opens. I will wait to see what is behind the Simplii door before making my final decision. How about you? What will you do?
Wishing you Happy, Healthy Finances,

Mary Ann Marriott
aka Dr Debt