Doubling Your Investment Dollars
I think I'm safe in saying that we would all like to double our investments.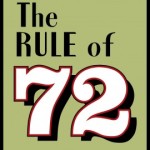 I have been exposed to the Rule of 72 many times over my career and I think it's a rule worth knowing as it gives us some measurement we can use to set some goals for ourselves and our savings/investments.
This is by far one of the simpler posts I have seen on the subject and I wanted to share it with you. With today's interest rates as low as they are, the results are a bit depressing, but we do reap the rewards of a low interest rate on the cost of our homes in the way of mortgages, among other borrowing.
So, compliments of Michael Puccini,  of Premiere Mortgage Centre, enjoy!
The Rule of 72
For the Math Geek in All of Us
Have you always wanted to be able to do compound interest problems in your head? Probably not, unless you're a true math geek, but it's a very useful skill to have because it gives you a lightning fast benchmark to determine how good (or not so good) a potential investment is likely to be.
The rule says that to find the number of years required to double your money at a given interest rate, you just divide the interest rate into 72. For example, if you want to know how long it will take to double your money at eight percent interest, divide 8 into 72 and get 9 years.
As you can see, the "rule" is remarkably accurate, as long as the interest rate is less than about twenty percent; at higher rates the error starts to become significant. You can also run it backwards: if you want to double your money in six years, just divide 6 into 72 to find that it will require an interest rate of about 12 percent.