Are you a Hot Commodity?
In my previous post, I talked about your relationship with the bank and understanding "their" role in "your" finances. I want to switch gears slightly and ask you to think of yourself as a commodity. Yup, that's right! You are a commodity!
This came up in a recent conversation with a client. He was having a particularly hard time with the fact that he was unable to repay his debts in full. In fact, he was losing sleep over it. I leaned over the desk during one of our counselling sessions and said, "you realize that you are an investment to the bank, correct? And that you have been a good investment." He had the accounts in question for many, many, years, and had paid lots and lots of interest. Likely far more than the amount he actually borrowed.  I went on to explain that financial institutions – banks, credit card companies, etc. have money. And they need to invest this money. And they need to make money on their investment. They do not loan us money because they like us, or we need it, and our goals are important to them. (I am speaking from an institution perspective, your loans officer may care about you and your goals – the good ones anyway). They loan us money because they are investing in us. And the interest rate reflects how hot a commodity we are. The greater risk we present (based on our credit score), the higher interest rate we pay. Those who DO NOT pay off their balances each month (referring to credit cards here) are a better investment because the bank makes more  of a return on their investment. If you DO pay off your balance each month, in full, prior to the interest being charge, you are actually not their best client. Interesting isn't it. The system is designed and supported to ensure you spend, carry a balance and continue to rely on credit.
Is it any wonder that more young adults are starting out in debt and more seniors are taking debt into their retirement.
I just finished reading this blog – Are Banks Really in it for you? – which I think highlights this point. Walk into your bank knowing that THEY are investing in YOU. See where that attitude takes you. And please feel free to come back here and comment. We'd love to hear how you made out.
Until my next post…
Wishing you all happy, healthy finances.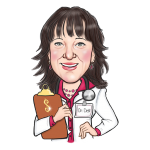 Mary Ann
aka Dr Debt