Deals Delivered to Your Door
We live in an ever-accommodating society. No longer do we have to go out and look for deals, they are delivered to our doorstep…well, inbox…thanks to the likes of Groupon, Teambuy and Kijiji Daily Deals to name a few.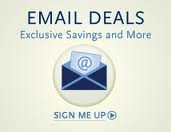 Spending our hard-earned dollars is now even easier. I can see the credit companies doing a little jig at this wonderful new shopping sensation. Unfortunately our pocket books aren't necessarily doing the same jig. With this convenience comes a risk – and that is that we succumb to, gasp, dare I say it, impulse purchasing. On the flip side, you can use this new shopping sensation to your advantage. All it takes is a little willpower and bit of planning – willpower to avoid purchasing something simply because it is on sale and just too-good-of-a-deal to pass up, and a plan to look for deals on things that you WILL spend money on anyway.
Here are some of the ways I have used these sites to 'save' me money:
1. Cut your expenses – As fall approached last year,  I kept reminding myself that I needed to get my car undercoated before the snow fell. One morning I checked my email and there was a special offer for undercoating at a service station sitting there staring at me. My first thought was "that's not in my spending plan this month". My second thought was "If I wait, I am either not going to get it done (because quite frankly those things seldom achieve a priority place in my stretched spending plan) or, I was going to spend more by making a decision later in the year to do it and missing this opportunity. Plus, if I had the coupon, I would most-certainly get it done. I bought it, tucked it away and am proud to report that my vehicle is now undercoated, at approximately 50% of what it would have cost me, and will prolong the life of my necessary mode-of-transportation.
2. Plan ahead and save – Every year I vow that I will have my Christmas Shopping done by December 1st – haven't actually accomplished that yet, but I am getting closer. I started watching the deals that come my way to help me accomplish this goal. Last year I bought several items that, again, saved me money AND moved me closer to my goal. I was surprised at how many things I tucked away when I took stock of my gift items a few months before Christmas. I've already started looking for deals for this years shopping list.
3. Get a little extra – You can use these deals to buy things you wouldn't (shouldn't) spend money on otherwise.  I have wanted to have my hair professionally colored for awhile but I simply can't justify the cost. It's easy and inexpensive to do it myself and I have far more important places to direct my spending. Lately, however, a deal popped up in my inbox. I can get a cut, color, etc., for the same price I pay for a cut. I did what any good shopper should do. I walked away to think about it. (Well, I closed my inbox and went back to work), two hours later I decided it WAS a good deal. I was getting something I wanted and wasn't spending any more than I had planned.
Good Money Management doesn't take a sophisticated accounting program or a degree in budgeting. It just takes a heightened level of awareness and some good-old-fashioned common sense decision-making when it comes to where you allow your money to go.  Happy saving!
We would love to hear how you use these sites to save money. Leave a comment or send me an email.