How to Afford a Home in Today's Market – Let's get Creative
Well, I had the most wonderful conversation with the Mortgage Jeannie – Jeannie McCulloch – on buying a home in today's market.
As we know, the housing industry in the Maritimes (and beyond) is in a boom and that means houses are selling for more, which means you need more cash flow to buy a property AND potentially bigger down payments.
What is a first home buyer to do??
We dug deeper into this along with some other aspects and share them all in this video:
How to Afford a Home in Today's Market – Let's Get Creative with Jeannie McCulloch
Here are the highlights of this video:
Qualifying for a mortgage is very dependant on credit score and credit reports. Because of the impact of Covid on industries, many people have had their credit score impacted and this is causing some issues with obtaining financing and having access to the A Lenders.
We discussed the  4 C's of Credit: Character, Capacity, Capital and Collateral.
These are the main four factors lenders take into consideration when deciding whether or not to loan your money. 
Character – your history on how you pay your debts.
Capacity – your ability to pay your current debt and any new debt.
Capital – what can you offer as your part of the investment into the purchase (ie. a down payment)
Collateral – what can you offer as extra security towards the debt (in this case, that is the house)
I talked a bit about the importance of considering your credit worthiness, not just your credit score. We get completely hung up on our credit score, but there are two other aspects: Debt Ratio and Job stability/source of income.
I did a short presentation on this topic which goes into it in more detail. You can watch it in the video below.
Related Video: Credit Worthiness
Down Payment Ideas
We dug into the topic of down payments and where that can come from. Here is a summary of possible places to get a down payment:
Cash or savings (of course)
Gifts from family, friends, etc. (there are some guidelines on this that are important to know)
Borrow on your current debt such as a line of credit (also some considerations on this one that need to be looked at)
One of the ways Jeannie is unique is that she has a banking background and brings that into her mortgage broker business. She really takes the time to make sure the i's are dotted and the t's are crossed before she submits the paperwork for consideration. This saves a lot of going back and forth between the lender and the individual(s) and gets the financing approved faster.
Viewer Q&A
We had a great question from the audience 🙂
Q. If we get a 5-year term on a mortgage, do we have to keep getting approved for a loan every 5 years?
A. No. You can change the term at any time. Sometimes you can simply change the terms with your lender, but other times you can consider making a new application to a new lender. There is value to reaching out to a broker to see if you are getting the best deal, the best interest rate, the best terms, etc. So, if you have not obtained a second opinion, consider doing so.
Private Lenders
We talked about when you might want to use a private lender. Most shy away from them because of interest rates, however, we had a very eye-opening discussion on where private lenders come in and how they can really help an individual. Here are some examples:
if your house is in foreclosure and you need to get it out of foreclosure, fast, this may be a way to do that
bridge financing where you are selling and buying and need some short term cash between the buying and the selling balance
they can be good short-term solutions where you need cash flow while waiting for other financial institutions to complete the application process and/or advance the funds.
If the sale price of the house is above the appraised value, you need to have some extra funds to make up the difference!
The importance of pre-approvals
This is a bigger issue these days, because let's face it, you need to have your ducks in a row if you are putting an offer in on a house at this time. Real Estate Agents will generally require that you be pre-approved for financing before placing an offer. You also want to know what you are pre-approved for so you know what properties you can look at.
Moral of this discussion: Get a pre-approval.  Mortgage brokers are your best friends when it comes to pre-approvals. 🙂
TIP: just because you are pre-approved for a $300,000 mortgage, doesn't mean your budget supports the payment for a $300,000 mortgage. So use your common sense and make sure you know what you can afford going in.
Related blog post: Living within your means = meaningful living
Definitions:
Bridge Financing – Jannie explained this in easy-to-understand terms and gave a great example. Simply stated, you have a house for sale, you put an offer on a new house, hey accept your offer, the sellers do not want to wait until you sell your house, you need some short-term financing to pay for the new house until your house sale completes.
Porting your Mortgage –  This is a clause that may be in your existing mortgage that allows you to take your current mortgage with you.
Some things to beware of, there may be stipulations on where you can have a mortgage (geographic location), the amount of the mortgage, the fees, if the price of the new home is more than your current home/mortgage). These can all make the portable mortgage option ineffective.
Homework – We suggested that you check your mortgage document to see if it is portable.
Final Piece of Advice from Jeannie for New Home Buyers in Today's Market
"Talk to a Mortgage Broker because we specialize in the full plan, we are licensed, and it is free. You don't have to pay anything. We have lots of resources and connections. You can have such a great plan and be successful and shop with confidence if you just take 20 minutes and talk to a mortgage broker"
Looking for some of your own Mortgage Jeannie Magic?
You can reach Jeannie here:
Jeannie McCulloch – The Mortgage Jeannie
info@mortgagejeannie.co
www.mortgagejeannie.com
Watch the full interview on Youtube:
How to Afford a Home in Today's Market – Let's Get Creative with Jeannie McCulloch
Until my next post…
Wishing you all happy, healthy finances.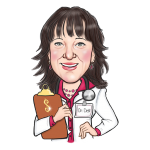 Mary Ann
aka Dr Debt
Disclaimer: this information is for general purposes only. Every situation is different. If you want to get the best advice possible, you would want to have a personal consultation to receive the advice that is most relevant in your situation. 
I am a Licensed Insolvency Trustee employed by Allan Marshall & Associates. In my spare time, you will find me here, under my alternate title, Dr Debt, sharing tips, tricks and techniques to help you have happier, healthier, finances.