I'm making a stand with wet hands!
It's been six long months and my hands are cleaner than ever. Who would have thought I would make it this far?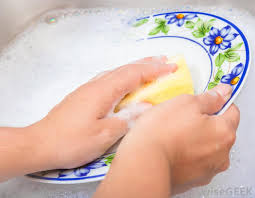 I am referring to life without a dishwasher. Around mid-December, ours broke. My first reaction was sheer terror. I'm pretty sure I almost lost consciousness. Like many families struggling to make ends meet, I didn't have any savings to buy another. The word credit kept flashing in my mind, but we were just managing what we had. I took a deep breath, pulled up my rubber gloves, and started washing.
It wasn't so bad. "Not much more work then rinsing the dishes, loading and unloading the dishwasher", I thought. Day 2! – It occurred to me that growing up we never had a dishwasher, we, gasp, washed and dried them – by hand. I then had a BFO (blinding flash of the obvious!). My gosh, we are raising a generation of kids who never have to wash dishes. Visions of power failures and piles of dirty dishes flashed by. I decided to start operation "Dishpan Kids". I asked, in a way that made it sound incredibly exciting, "Who wants to learn how to wash dishes?". It was fun. The family doing dishes together. What a concept.
I will admit, I had some setbacks. Entertaining guests poses some additional challenges (clean-up takes slighly longer than loading the dishwaher) and some surprises (during our last get-together,  the guys did the dishes while the girls played cards…hmmmm…). A month or so after we began "Operation Dishpan Kids" I found out that the dishwasher actually was not broken. It's something under the sink (that's as intelligent as I get on that subject). It will probably take an hour and 20 bucks to fix. But you know what? I'm ok. I think I can go without. In fact, I kind of like it. I enjoy watching my family share in the responsibility and I have a really great two-level dish rack to dry my dishes on. 🙂